Labor Law Compliance Kiosk
Online Library of Required Government Posters
Access Compliance Posters Via Touch

Communicate with HR – Submission Grievances & Suggestions

Federal, State & Local Government Poster Compliance

Library of Government Notices

Multiple Language Support




Online/Off-line Operation

Supplement Folders for Emergencies, First Aid & Well-Being

Updates via Cloud Services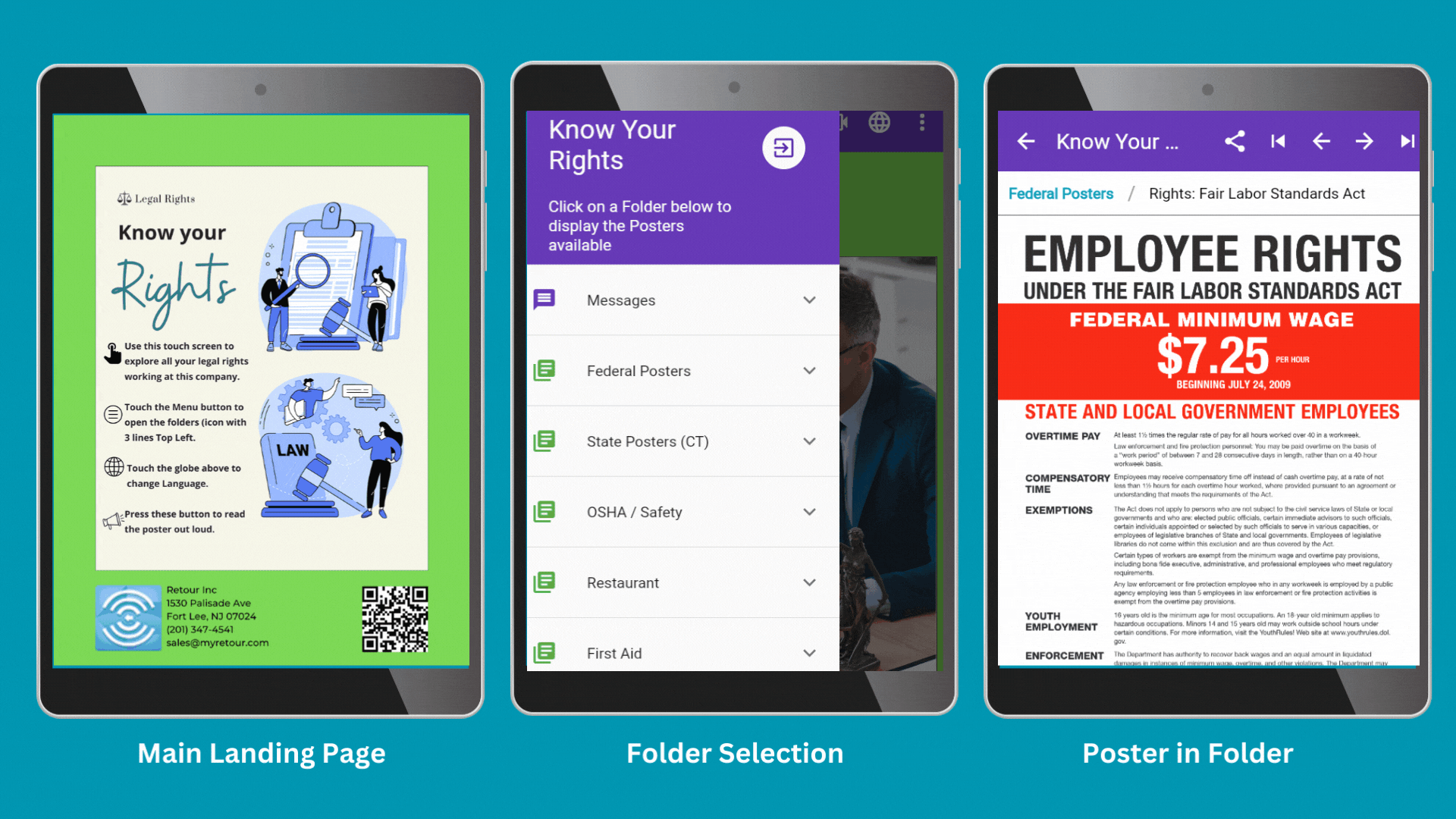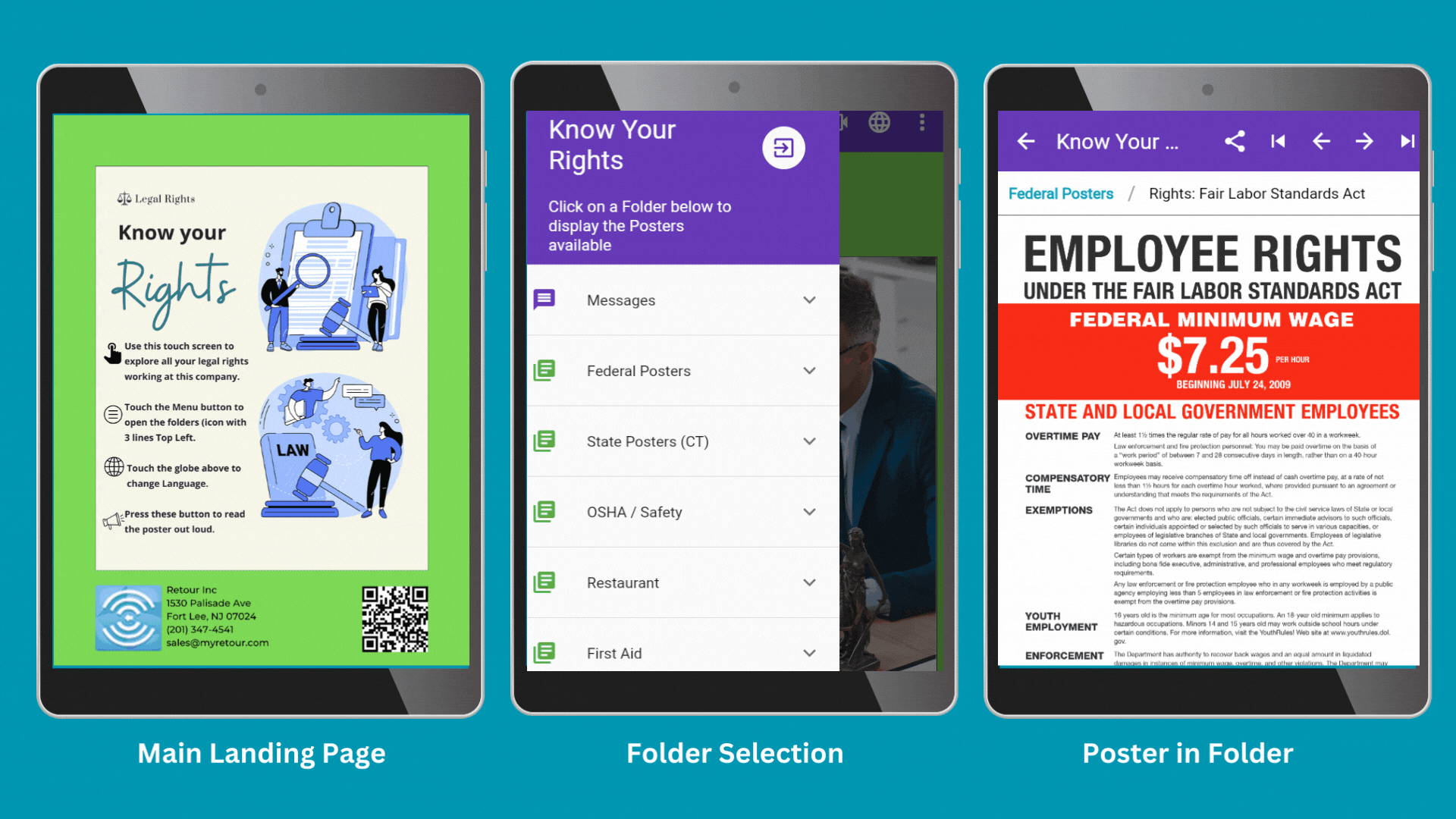 Free to Use Web Version: Labor Law Compliance Kiosk
Free to use after agreeing to our EULA. Some of the advanced features available on the Kiosk are not available on this web version of the software. A subscription is needed to enable the multiple language, read out loud and full set of the government posters from all the different departments.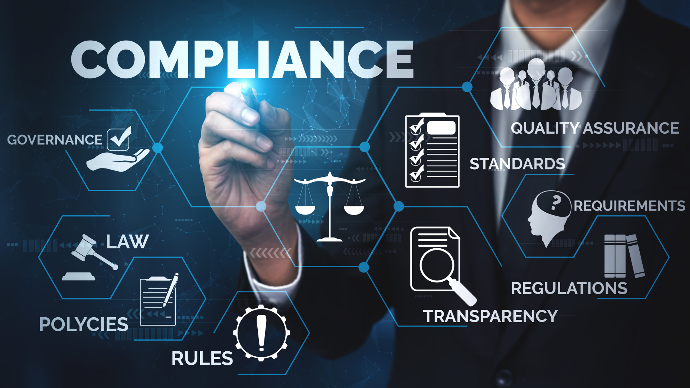 Labor Law Kiosk
Poster Compliance
Federal, State County and City Laws require employers to post notices of employment laws and notices in employee accessible workplaces.
In some instances, notices for required for applicants. Notices/posters are updated frequently by the government agencies and need to be updated regularly. With thie Kiosk all Posters will be available and updated continuously periodically from our cloud services.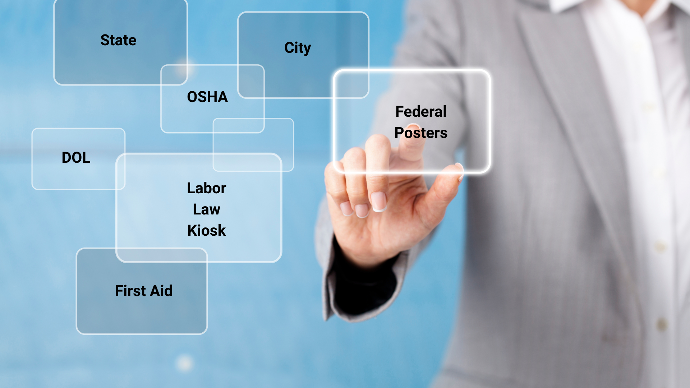 Posters from Government Agencies
DOL, OSHA, FDA, CDC & More

Various Federal Government agencies require Posters depending on the type of business. Once you setup the company, business type and address, the Kiosk determines the legal documents and posters that need to be available for the employees. Your kiosk is ready to use. First Aid Posters
First Aid Instructions
The Kiosk is usually placed in an area readily accessible to the employees. It has a small footprint so it can be deployed in areas with little or no wall space.
In the event of medical emergency, a user can access with instructional posters such as First Aide posters complete with directions and illustrations of the procedures.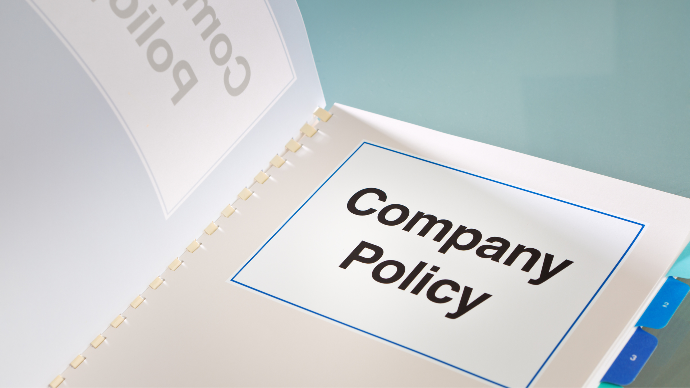 Company Folder
Company Notices & Policies
The Corporate version of the application provide company specific folders to contain the companies Notices and Policies available for the employee to access.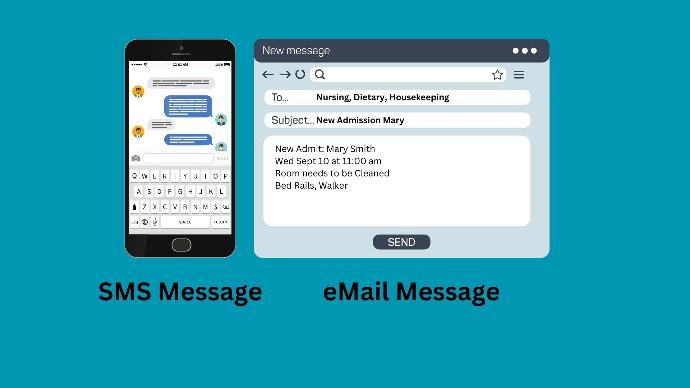 Communication Functions
Grievances & Suggestions
Employees can send the company suggestions and grievance messages via eMail or SMS messaging.
The User can allow email the posters and notices as PDF attachments to user supplied eMail accounts,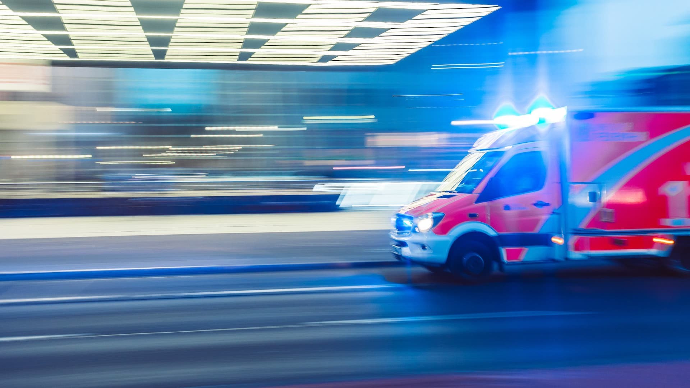 Emergency Support Folder
Emergency Instructions
Special Emergency folder containing PDF instructions for severe life threatening events, such as Hurricanes, Earth Quakes, Fires and Floods.
The government instruction sheets provide guidance on what to do and critical issues to be aware of.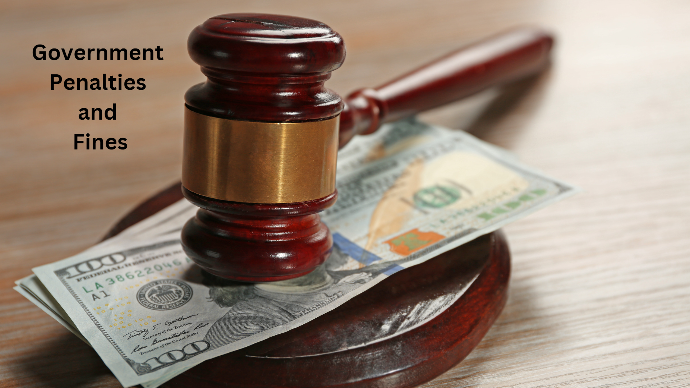 Non-Compliance Fines

Penalties for Non-Compliance

The EEOC is charged with enforcement and punishment of businesses that do not comply with labor law posting requirements. If your company mistakenly or intentionally fails to properly display labor law posters, you could face stiff penalties:

FMLA violation: $189.
OSHA violation: $14,502.
EPPA violation: $23,011.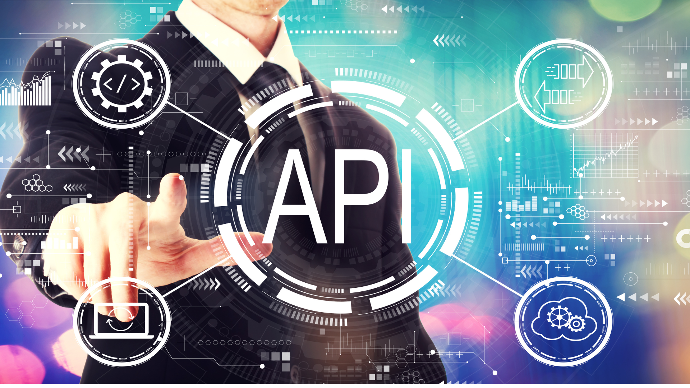 Third Party Interfaces
API Interfaces
API calls are available to upload notices and reports to the Kiosk. This enables your organization with a method of uploading any documents to a Company folder for your employees. Company notices and Policies can be loaded to
Connect you HR System to the kiosk to extend the H/R access to employes to the HR system. Any PDF documents can be uploaded to the company folders.